Covergirl unveiled a new ad staring the newest cast of iconic Covergirls which includes actress Issa Rae, chef Ayesha Curry and Massy Arias, and it's epic!
---
In what looks like a dramatic departure from the days of "Easy, Breezy, Beautiful", the "I Am What I Make Up" tagline emphasizes that women's empowerment and beauty go hand in hand. The ad features each woman in her own individual light dominating each moment with faces beat for the gawds.
The cast—which also features singer Katy Perry, professional road racer Shelina Moreda, and even Elon Musk's Mom, Maye Musk—glistens during scenes of strength (like motorcycles racing and weightlifting) juxtaposed to flashes of lashes, lipstick and beauty shots. The ad promotes that all women should be living life on their own terms with style at any age. This is perhaps Covergirl's most diverse line-up, which should be a breath of fresh air for many women. It is a fresh take on what it means to be a "Covergirl".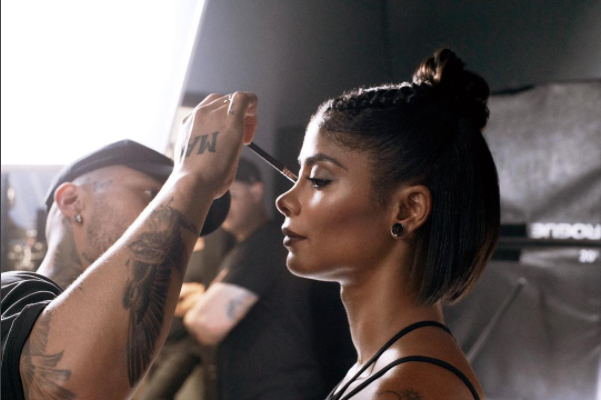 Fitness influencer Massy Arias, formerly known as Mankofit, shared the news to her Instagram account while expressing that she could have never imagined, in her wildest dreams, she'd be a Covergirl.
I remember watching America's next top model growing up as a young girl. Dreaming of a chance to experience for just one minute what it'd be like to take pictures with pretty makeup and pretend I was a model... A Covergirl. Oh, but did I ever believe I would one day become one. It's extremely humbling now to be in a position where I can possibly inspire young girls and women around the world.
With so much going on lately in the advertising world in regards to women—particularly women of color—it is not only a welcome visual, but it is likely to provide Cover Girl with additional appeal in the wake of the success of lines like Fenty Beauty. It is great to see companies make the effort to be increasingly inclusive with their marketing efforts, and it will be interesting to see if it translates into sales.
Are you here for Cover Girl's new way of embracing diversity and women's empowerment?