When it comes to building a personal brand on top of your 9-5, it's hard AF. How do I find time? How do I spend my money on resources? Will people support my vision?
Well, the truth is that all of these questions, plus probably about 10 million more, will pop up in your head at least once every day. That's just the life of being an entrepreneur.

---
"When I first started my blog, I was working on it after hours," said Jamé Jackson, a style and beauty influencer based in NYC. "It takes time to build your side hustle, and oftentimes you'll feel like you can't do it because of whatever. It doesn't matter if you don't have the resources, that's when you have to keep pressing. It all started with just one hour a day, and then you really start to see significant differences as long as you stay dedicated."
I wanted to see if I could do the same thing — if I could dedicate one hour a day to my side hustle, and more importantly, if I noticed a difference afterward. For one month, I spent time actually working on journaling and building as a blogger. Here are some life lessons I learned in that month:
Even Baby Steps Are Progress.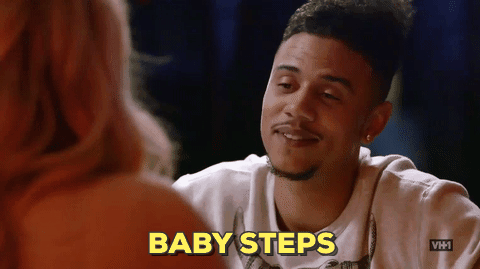 Entrepreneurship is hard, and beating yourself up in the process happens to everyone. I had to learn how to not get caught up in the "glass half empty" mindset, or the comparison game while looking at other people doing what I was doing.
The easiest way to combat that is by celebrating the wins and the baby steps, no matter how small you think they are. I didn't have a budget in place for my side hustle, and it immediately showed when I would look at my credit card statement and see just how much I had spent.
I started off by writing out my goals and then writing out quantifiable goals that centered around money, dates, or anything with figures. Starting off with the baby steps in my finances not only helped me be able to really put a budget in place, but it left me significantly less stressed because I knew that I was doing things the right way for long-term success. Oh, and the more you do the baby steps, the better you get and soon you graduate to big girl steps and that's when the fun comes. Whatever it is, stay focused and break down your goals into smaller, actionable steps.
So those are the three things I learned while working on my side hustle. What lessons have you learned while working on yours? Let us know in the comments!
Related Articles:
6 Best Side Hustles For 2018 – Read More
Angela Yee Shares How To Master The Art Of Side Hustling – Read More
6 Side Hustles You Can Employ While You're Unemployed – Read More
3 Career Women Share How They Balance A 9 to 5 With A Successful Side Hustle – Read More