Like assault, abuse knows no gender.
And just like a woman can be battered and bruised at the hands of a lover, so can a man.
---
Women might be ignored or backed into corners of denial and disbelief, but men get downright laughed at when they come forward as victims of assault. "But you're a man," the public mocks.
Size comparisons ensue and so do attitudes that intend to question his very masculinity. For those reasons, men are often more silent than not when they themselves become victim to assault and abuse where women are the perpetrators.
Case in point, Big Sean's ex-fiancé and the alleged inspiration behind his eff your ex banger "IDFWU," Naya Rivera, was arrested late Saturday night for alleged domestic battery against her current husband Ryan Dorsey. The former Glee actress was charged with misdemeanor domestic battery early Sunday morning (November 26) following the incident in her husband's hometown of Chesapeake, West Virginia.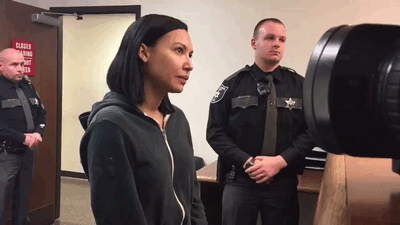 While details of the alleged event are limited, the criminal complaint states that she hit him in the head and on the bottom lip while they were taking their child for a walk down a street. Dorsey also provided cell phone video evidence to the authorities, according to the complaint.
As the news began to circulate online, Big Sean must have caught wind of it himself. He posted an interesting video clip of a young girl saying "I Told Y'all on his Twitter, and many think it's in direct response to the domestic battery charges his ex is currently facing:
In 2015, after the couple called off their engagement with rumors of Naya being possessive in the relationship, Big Sean released "IDFWU," in which he rapped:
Yeah, and everyday I wake up celebratin' sh-t
Why? 'Cause I just dodged a bullet from a crazy b-tch
This story may spark a hashtag of its own of men coming forward to state that they too have been victims of domestic violence at the hands of a female counterpart.
While 1 in 4 women have been the victim of severe physical violence by an intimate partner (including acts such as being hit with something hard, being kicked or beaten, or being burned on purpose), 14% of men have also experienced this form of abuse, according to the National Domestic Violence Hotline. We must also remember that domestic violence can also include other forms of abuse including emotional, sexual, and financial. Abuse can take on many forms, but sometimes people give women a pass for the same behavior a man would meet an early grave for.
Let's be clear: there's a difference between "Crazy in Love" and plain crazy. But simply dismissing someone as "crazy" doesn't address the issues the person is dealing with that causes them to lash out in violent and abusive ways. We can't give passes out anymore and excuse behavior from men or women that do not reflect love. Domestic violence is a serious issue, and until we combat it in all forms as a community and society, the effects will continue to rear their ugly heads.
Bottom line, keep your hands off of other people.