They say if you don't stand for something, you'll fall for anything.
---
When NFL star Colin Kaepernick first decided to take a knee during the National Anthem in silent protest of police brutality and social injustices, he probably would have never imagined the media coverage, backlash, and scrutiny it would cause, nor the overall effect it would have on his career in football.
Despite it all, Colin has stood firm in his beliefs and not only continued to kneel, but also donated over a million dollars to organizations working in oppressed communities. There hasn't been an athlete that has used his platform to speak out so boldly since Muhammad Ali, so it came as no surprise when Sports Illustrated announced it would be presenting Kaepernick with this year's Muhammad Ali Legacy Award.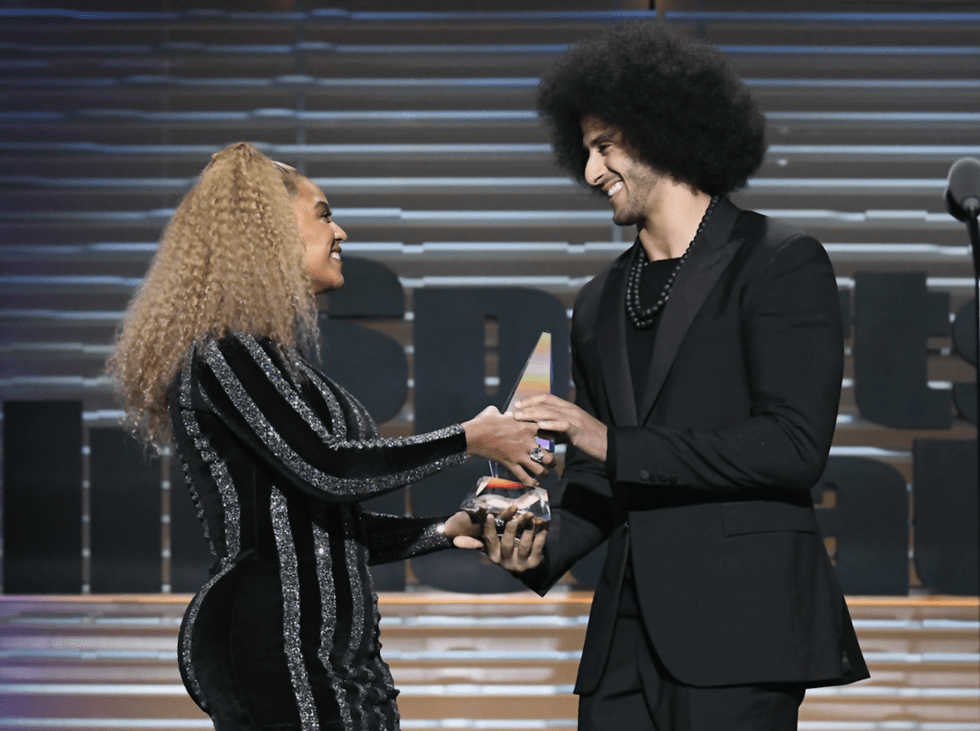 The ceremony took place last night at the Barclay Center in New York, and Beyonce did the huge honors of presenting Kaepernick with the deserving award:
"Thank you for selfless heart and your conviction. Thank you for your personal sacrifice. Colin took action with no fear of consequence or repercussion. Only hope to change the world for the better. To change perception. To change the way we treat each other--especially people of color. We're still waiting for the world to catch up."
Kaepernick, who still remains unsigned by a team in the NFL, revealed during his speech that although he may not have the support of the league that he has given blood sweat, and tears to, he has the support of those that love and appreciate his bravery.
"I accept this award not for myself but on behalf of the people. Because if it were not for my love for the people I would not have had protested. And if it were not for the love of the people I would not be on this stage today. With or without the NFL's platform I will continue to work for the people--because my platform is the people."
Colin was also honored by GQ last month as they named him their GQ's Citizen of The Year. Since becoming one of the most prominent social activist in sports, he has received a ton of support from public figures and fellow athletes, including Lebron James who also compared him to Martin Luther King Jr.
"I've commended Kap, and for him to sacrifice everything for the greater good for everyone, for what he truly believed in, the utmost respect to him. Obviously he had a vision like Martin Luther King and like some of our all-time greats that people couldn't see further than what they were doing at the point and time. And Muhammad Ali and things of that nature. When it's something that's new and it's something that people are not educated about or don't understand what your beliefs are all about, people are so quick to judge and people are so quick to say that what you're doing is wrong. For him to sacrifice the sport that he plays and to sacrifice the things he's done his whole life because he knew what he believed in, I salute him. I salute and respect that.
We thank you, we support you and we appreciate you, Colin Kaepernick.