Growing up, I always wished that I had a twin sister because of the infamous television twins: Tia and Tamera Mowry and Mary-Kate and Ashley Olsen. Watching those two set of iconic twins in the '90s, I was envious of anyone who was able to pair up with their twin and wear hot fashion trends together. This is why one of my biggest twin crushes I have right now is on The Quann Sisters, aka Cipriana and Tk Wonder.
---
These highly beautiful (and perhaps uber stylish) twins have been buzzing all over Instagram, Tumblr, YouTube and most recently, magazine spreads. Their noteworthy style and outspoken personalities are the many reasons why I admire these lovely twins. I forgot to mention their big, luscious hair that matches well with their big, bold fashion choices.
As Cipriana has said before, their hair hasn't always been easy to deal with:
"After years and years of modeling and struggling with my physical image regarding my hair of trying to mold it into someone else's idea of their "ideal beauty," I'd just had enough! I wanted to represent the kind of beauty I felt most comfortable with and idolized when I was younger, which was my mother's image. I was done with masking my identity to represent a false beauty to please the standards of others. Beauty is in the eye of the beholder, and at the end of the day, I realized the most important beholder was me."
This is one beautifully recited statement that helped me understand and appreciate the sisters more than ever.
The Quann Sisters were already quite popular on YouTube when the twins won Vogue's Best Dressed in 2014 which was the icing on the cake for people's growing desire for these glamorous ladies. From being featured in Vogue to signing with IMG Models and snagging campaigns with brands like Sunglass Hut, what can these trendy set of twins not do?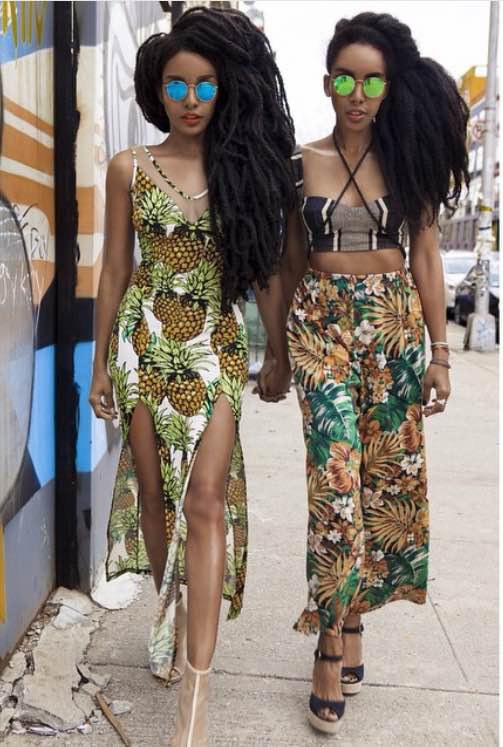 These twins' style is out of this world and these vibrant looks are an example of this. One sister is rocking a pineapple printed maxi dress with sexy slits, and the other sister is donning a striped crop top with palm leaves and floral printed bottoms. I guess it is clear that these ladies are not afraid to wear alluring prints on their clothing items.[/caption]
Here are 16 times Cipriana and TK Quann slayed the game with their impeccable fashion choices.