---
How much do Barack and Michelle love one another? Let us count the ways!
If there is one thing that is absolutely undeniable about President Barack Obama and First Lady Michelle is their unwavering, undeniable, inspirational love for one another for the past 25+ years! And quite frankly, we can't get enough!
Having first met in 1989 where the two were one of the few Blacks at Chicago law firm Sidley Austin, the couple (whose first date was a trip to an art institute, followed by a movie date to see Do the Right Thing, and a first kiss outside of an ice cream parlor), instantly fell for each other and it was love at first 'Spike!' They would later get married in 1992, and give birth to their daughters Malia Ann (18) and Natasha (15) in the years to follow. And, as we all know, after successfully creating a family of their own, they would later become the face of a nation, serving as the first Black, first family of our nation between 2008 to now!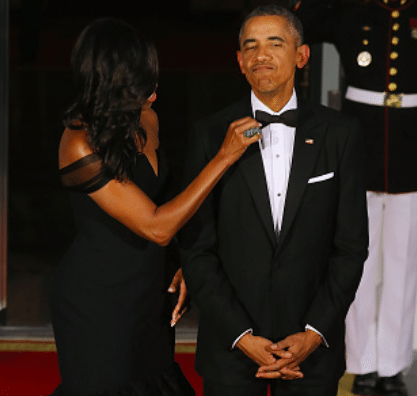 The last 8 years have been a whirlwind for the Obamas, but in-between their hectic schedules, the couple still found time to inspire us with their love. Whether it's a a little PDA between PSA's, or a full-own interview with the likes of Barbara Walters of Vogue, the Obama's "love goals" is everything! Check out some loving quotes from favorite love birds through the years, and feel free to fall in love with them all over again!
1. Cute Only Lasts For So Long.
"He was always special, you know? And not special, like, he's gonna be important, he's gonna be president. He was special in terms of his honesty, his sincerity, his compassion for other people. Cute's good. But cute only lasts for so long, and then it's, Who are you as a person? That's the advice I would give to women: Don't look at the bankbook or the title. Look at the heart. Look at the soul. Look at how the guy treats his mother and what he says about women. How he acts with children he doesn't know. And, more important, how does he treat you?
[Tweet "When you're dating a man, you should always feel good. You should never feel less than."]
You should never doubt yourself. You shouldn't be in a relationship with somebody who doesn't make you completely happy and make you feel whole. And if you're in that relationship and you're dating, then my advice is, don't get married. Get out of it. And find that person who brings you complete and utter joy with who you are at the moment. -- (Michelle Obama in Glamour Magazine, December 2009)
2. Fall In Love With His Character
"When I first met Barack, we started dating, he had everything going for him. All right, ladies, listen to this. This is what I want you to be looking for. Yes, he was handsome--still is. I think so. He was charming, talented, and oh-so smart, truly. But that is not why I married him. What truly made me fall in love with Barack Obama was his character. You hear me? It was his character. It was his decency, his honesty, his compassion and conviction." -- (Michelle Obama speaking at "Morgan State University in Maryland", September 2012)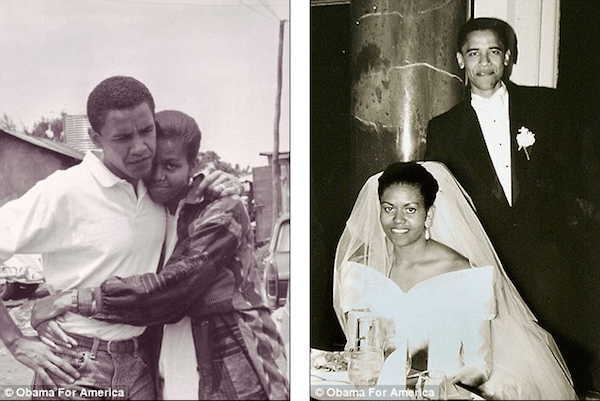 3. If you can work through the tough times, the love and respect you have for each other deepens. 
"We've been married now twenty years, and like every marriage you have your ups and you have your downs, but if you work through the tough times the respect and love that you feel deepens." -- (President Barack Obama on Barbara Walter, December 2012)
4. 'Netflix and Chill' is not an appropriate first date.
Our first date, I took her to the Art Museum, at the Art Institute. I was trying to impress her and show her I was a culturally sensitive guy, and it worked. So I'm giving tips to the young men out there… -- (President Obama "Dinner With Barack and Michelle", March 2012)